How to claim your Google Places Listing and why it's important for your business.
Local search has become a very competitive jungle out there. You need to take advantage of all things free that will get your business noticed more by not only the search engines but also your current and future customers.
You need to claim your Google places listing now. And the best part of it is that it's free. That's right free. However, you do need a Google Email account so get that first before anything else. Our advice is to get a Gmail account that reflects your business name such as companyname@gmail.com. Or get creative and if your in the roofing business get something like getanewroof@gmail.com.
Where do I go to find my Google Places Listing?
First, Google up your business name. Now go to the left hand side of the Google search page and look for places. Then click on places and you should see your listing. If you don't, then go directly to Google Places Listing and Google will lead you though your steps. If you have not claimed your listing and information shows up then some of the information has probably been retrieved from the internet.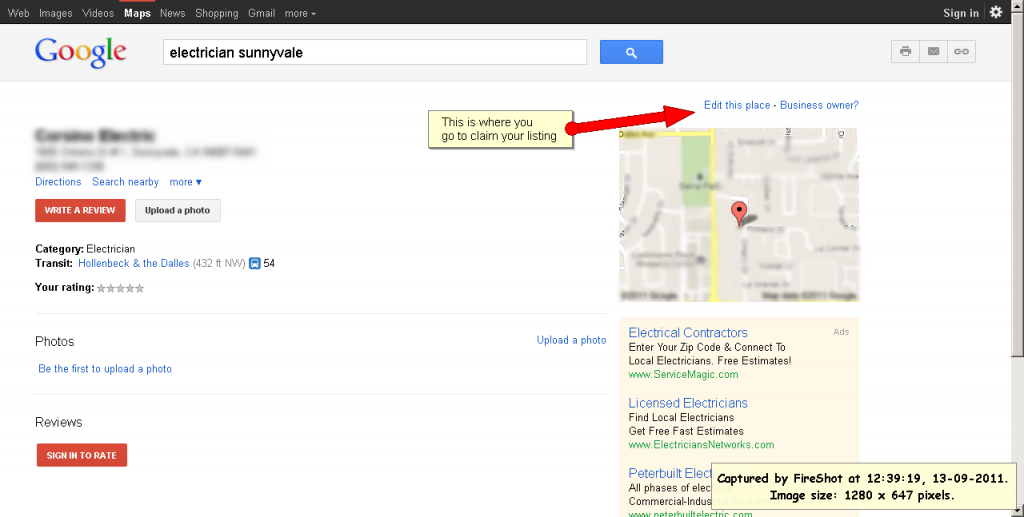 You may notice that the information may be incorrect. On your places page look in the upper right hand corner and it will ask you if you're the business owner. You would click there to go about claiming your Google Places Listing.
How to verify your Google Places Listing
While claiming your Google Places Listing you will be asked to verify your business by either a phone call or a post card. I've found that if Google has found information on you through the internet and has a basic listing up for your business then they will usually verify by phone. This is a good thing because waiting for the post card can take anywhere fro 2 to 3 weeks.  Google will give you a code or pin. You then go back into your Google Places Listing account and enter that number. Provided nothing has changed you should now have verified your Google Places Listing account.
Now that you've claimed your Google Places Listing you need to make sure all the information is correct and you have photos and videos that accurately describe your business.
We offer a Google Places Listing optimization package that will help your places page get more exposure and your website get noticed in the search engines for your specific search terms.
If you're ready to increase your revenue click here now.